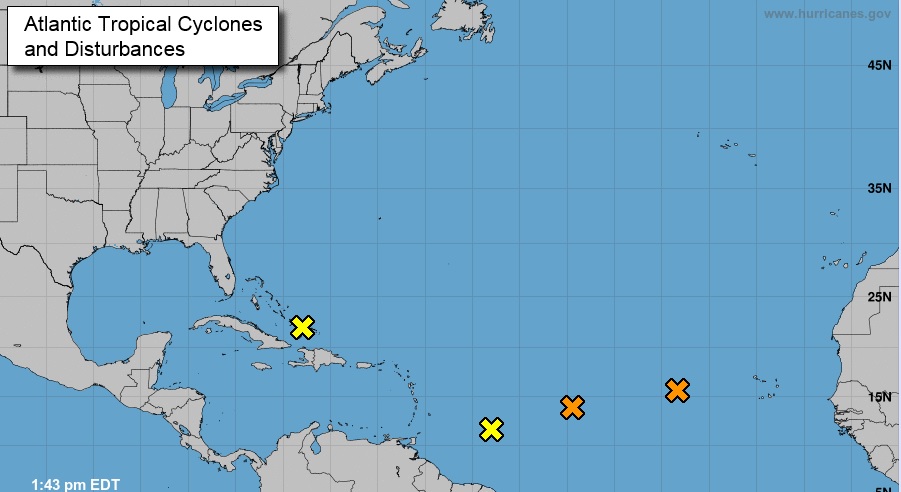 MIAMI, Aug 18 (EFE) – The United States National Hurricane Center (NHC) monitored this Friday the formation of four low-pressure systems in the Atlantic basin, one of which has a high probability of becoming a tropical depression in the next 48 hours.
A large area of ​​low pressure located hundreds of kilometers west of the African Cape Verde Islands has "favorable environmental conditions" that will make it possible later this week or early next week, according to the morning report from the weather center. .
The system has a 60 percent chance of becoming a low pressure within the next two days, producing heavy rain and thunderstorms, and moving west-northwest at about 16 kilometers per hour (km/h).
It will also produce disorganized showers and thunderstorms in an "elongated low pressure trough" between Cape Verde and the Lesser Antilles, although shear winds are forecast for the region, and it will be in the next few days with the potential to become tropical. depression.
NHC meteorologists are also monitoring a low area in the east-southeast of the Lesser Antilles moving northwest at about 24 km/h, although the probability of a low tide developing in that area is currently low (30 %). . A cyclone is expected in the next 48 hours.
On the other hand, a large area of ​​low pressure could develop to the west of the Gulf of Mexico next week from the "weather disturbance zone" that is currently north of Hispaniola (Haiti and Dominican Republic). ).
Once in the Gulf of Mexico, the system will have a "slow builder" as it approaches the west coast of the Gulf of Mexico in the middle of next week.
Hurricane season in the Atlantic basin runs from June 1 to November 30.