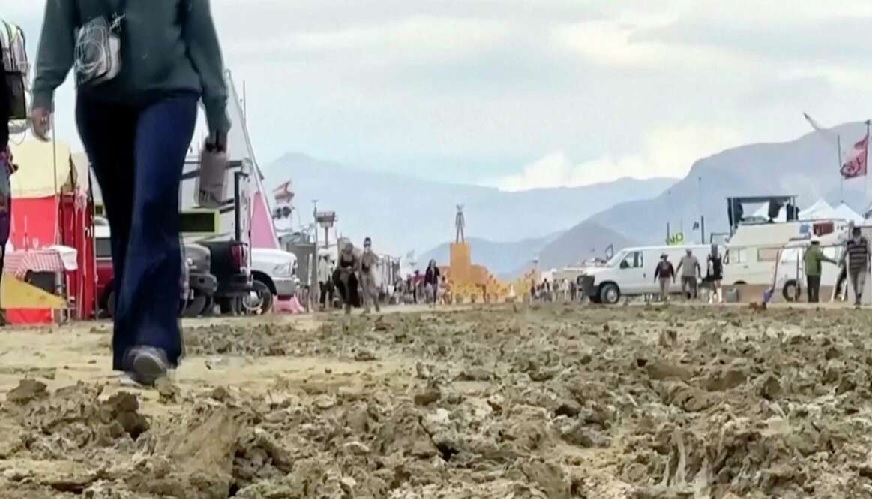 Nevada Burning Man spectators begin evacuation after being trapped by heavy rain
Organizers of the "Burning Man" festival in northwestern Nevada have released participants who were stranded in the desert for three days due to torrential rains and flooding.
The event had lifted the driving ban on Monday afternoon, and it was reported that "the evacuation has officially begun" of Black Rock City (BRC), which is built each year for the event.
The waiting time to leave the BRC was 6.5 hours, according to the organizers, who asked attendees to leave the venue in a "safe and orderly" manner.
At around 10:45 a.m. local time on Saturday, the event organizers announced that the gates and entry and exit airports of Black Rock City, a makeshift metropolis that emerges every year in the desert, will remain closed and attendees will receive rations. of water, food and fuel and orders to find shelter.
one person died
On Saturday authorities reported the death of a 32-year-old man, but the cause of his death has not been released. The sheriff's office is waiting on a toxicology report.
More than 73,000 people attended the festival, the Reno Gazette reported, but it was unclear how many of them were affected by the severe weather restrictions. Flood warnings remain in effect for northeast Nevada. The weather for this year's festival is in stark contrast to last year, when temperatures topped 40 degrees.
This year, the festival has had different events since its inception. On August 27, the day of the inauguration, climate activists and anti-capitalists blocked the road leading to Burning Man, causing a traffic jam that stretched for miles. According to a statement from Seven Circles, a coalition of activist groups organizing the protests, the lockdown was intended to highlight "capitalism's inability to cope with climate and ecological collapse."
spam