MBW Explains is a series of analytical features in which we explore the context behind major music industry talking points – and suggest what might happen next.
---
WHAT'S HAPPENED?
Arguably, from the music business's point of view, TikTok is starting to grow up.
Like many digital media platforms before it – YouTube perhaps most notably – TikTok has, at one stage or another, been a headache for the music industry – a place where music is used and shared freely and organically, but with underwhelming benefit to the creators and rightsholders behind that music.
Part of the process of 'growing up,' for a media platform, is the realization that it will have to play by the rules when it comes to music rights. That was the trajectory that YouTube followed, and it appears this is now TikTok's trajectory as well.
The deal announced last month between TikTok and Warner Music Group (WMG) is arguably the clearest sign yet that the social media platform – which has built a base of 1 billion monthly active users in its seven years of existence – is maturing into a serious part of music's cultural and business landscape.
That deal licenses the entire repertoire of Warner Recorded Music and Warner Chappell Music not only to TikTok, but to other ByteDance-owned entities such as the video editing platform CapCut, the TikTok Commercial Music Library (which enables near-instant licensing of music for ad syncs on TikTok) and the newly-created streaming service TikTok Music.
While finer details of the licensing deal are being kept under wraps, it's a good bet the deal moves the lump-sum payments for use of music that TikTok was making as part of its earlier agreements with the major recording companies into more sophisticated territory.
WMG CEO Robert Kyncl hinted at this in the company's Q3 earnings call on August 8. Though he cautioned that he isn't at liberty to divulge the details of the deal due to confidentiality provisions, he added: "What I can say is this: the deal features improved monetization per MAU that is comparable to other ad-supported DSPs, fully recognizing the value of our music and how critical it is to engagement on the platform."
If the deal is "comparable" to those with DSPs like Spotify or YouTube Music, then it's a sure bet we're no longer talking about a lump-sum payment model.
And that's a sign that TikTok is taking advantage of the position it has gained in music culture to transform itself into a prominent platform for music promotion, discovery and monetization.
However, to get there, TikTok will have to establish solid, mutually beneficial relationships with not just Warner, but much of the rest of the music industry – and right now, that's not a certainty.
---
WHAT'S THE CONTEXT?
The Warner deal comes at a time when TikTok has not only realized its influential role in recorded music, but has overtly and clearly decided to pursue a major position within that world.
TikTok's leadership has grown increasingly aware of the power that its users wield in musical culture; witness, for instance, the platform's 2022 year-end recap, in which it asserted that 13 of the 14 the tracks that reached No. 1 on the US Billboard Hot 100 that year "were driven by significant viral trends on TikTok."
It's data like this that has prompted the company to go all-in on transforming itself into an integral part of the music scene – not just culturally, but in terms of its business as well.
To that end, it has launched not only the TikTok Music streaming service – which is now in beta-testing mode in Australia, Brazil, Indonesia, Mexico and Singapore – but Ripple, an AI-powered music "melody-to-song" music creation app; Elevate, a program to, well, elevate emerging music artists on its platform, and a number of features – such as a #NewMusic Search Hub – designed to help artists showcase their music, and fans to find it.
Not to mention SoundOn, ByteDance's very own music distribution platform that enables artists to bring their music to TikTok and to other platforms such as Spotify, Apple Music and Instagram.
With all those moves, it has become clear that ByteDance wants TikTok to be at the very center of music, providing a bridge between creator and fan, between promoter and consumer, not unlike what MTV was, back in the days when broadcast media was at the core of the recorded music business.
"We know our artists' music and what it's worth to the billions of fans around the world. We can't settle for a deal with any platform that doesn't fairly recognize that value."

Sir Lucian Grainge, Universal Music Group
Yet amid all this have come grumblings from the recorded music industry that TikTok isn't pulling its weight when it comes to compensation for artists.
The lump-sum payments that TikTok makes to recording companies and rightsholders under its existing agreements may have made sense when the music industry agreed to it; after all, TikTok is a platform for short videos, so only snippets of any given song are generally used in the videos that users upload.
But that reasoning was overwhelmed by the sheer volume of music that eventually came to be posted on the platform. It's estimated that in 2021, some 8.6 billion videos were uploaded to TikTok, and more than 1 billion videos are viewed daily.
In light of that, the compensation that music rightsholders receive from TikTok has started to look disproportionately small.
---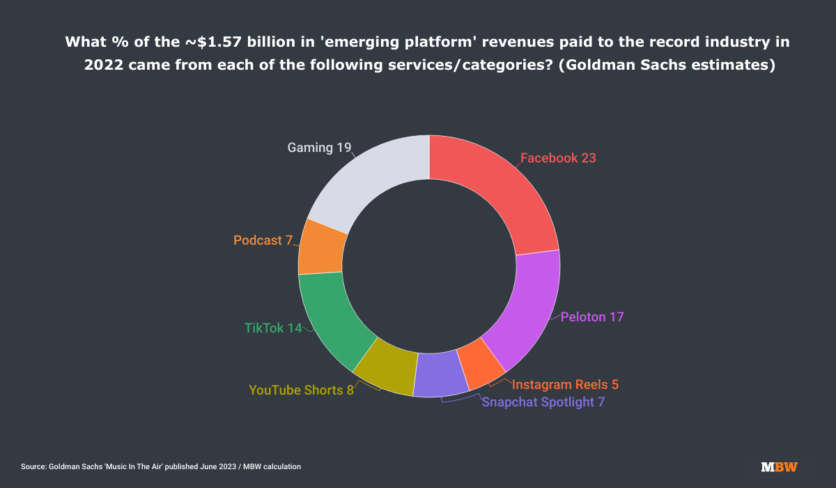 ---
In a recent report, Goldman Sachs estimated that Peloton, the 'exercycle' company with 5.9 million subscribers, paid more to the music industry in 2022 than TikTok did with its 1 billion MAUs.
Peloton paid around $267 million for music licensing, compared to the $220 million paid by TikTok, per Goldman Sachs.
(Behind the scenes, sources close to TikTok have disputed these numbers, but the company did not issue on-the-record comment to MBW on the matter when asked.)
And so today, the music recording companies are in talks with TikTok for a bigger share of the pie, and the Warner deal is the first in what the industry hopes will be a series of new agreements that TikTok signs with rightsholders.
---
WHAT HAPPENS NEXT?
The broad expectation among music industry analysts seems to be that TikTok will follow up the Warner deal with new agreements with the other two major recording companies, Sony and Universal, along with Merlin – the organization that handles digital music licensing for indie labels and artists – as well as with performing rights organizations.
Only those involved in the talks can truly say how close those deals are to becoming reality, but recent comments from Universal Music Group Chairman and CEO Sir Lucian Grainge suggest that the Warner deal may not be a sign that all the others are imminent.
Asked by an analyst on UMG's Q2 earnings call last month (July 26) about the progress in talks with TikTok, Grainge stated: "I can't talk about any specific platform negotiations, but what I can say [is] I feel strongly about this. I've spent my career fighting for artists, and the entire value of music. We know our artists' music and what it's worth to the billions of fans around the world. We can't settle for a deal with any platform that doesn't fairly recognize that value."
"We know our artists' music and what it's worth to the billions of fans around the world. We can't settle for a deal with any platform that doesn't fairly recognize that value."

Sir Lucian Grainge, Universal Music Group
That certainly makes it seem like there is still a fair bit of daylight between TikTok's and UMG's positions on music payments. And at times, TikTok has itself played hardball in those talks.
Nowhere is that better illustrated than in the social media platform's decision earlier this year to block some TikTokers in Australia from using licensed music in their videos, going so far as to mute the music on previously-posted videos as well.
This was evidently an "experiment" by TikTok to "analyze how sounds are accessed and added to videos," though some observers interpreted it as a hardball tactic, potentially meant to show the music industry that music isn't quite as important to TikTok as it may seem. Yet if that was the case, then the experiment may have left TikTok disappointed, as evidence suggests that Australian user engagement on the platform fell in the wake of the music restrictions.
Far from proving that TikTok doesn't need licensed music, it may have had quite the opposite effect, helping to solidify ByteDance's conclusion that music should be an integral part of TikTok's commercial future.
---
A FINAL THOUGHT…
While the deals that TikTok will (quite possibly) sign with music recording companies are certain to be more lucrative for music rights holders, they may not address a key complaint that many musical artists have voiced about music in the digital economy, namely a lack of transparency around how much money digital platforms are paying for music, and on behalf of whose music.
As the TikTok deals come down the pipe, artists will want to know: How much will TikTok pay? How will that money flow from recording companies to artists? And will artists be given the data to know whose music was used in videos, and how often those videos were viewed?
The original lump-sum deals between TikTok and the record companies reportedly didn't include data sharing, but under those arrangements, it made little difference. Under the new arrangements, which will likely be more complex and involve some proportionality between payments and music use on TikTok, availability of data will become a more pressing issue.
One positive sign on this front comes from the fact that TikTok Music has struck licensing arrangements with all three major recording companies for its music streaming service – deals that likely aren't too different from what other streaming services, like Spotify, have had in place for years with the music majors.
If so, it suggests that, at the very least, TikTok is willing to share data with its commercial partners. That's key to any new, strengthened relationship between TikTok and the music industry – and suggests that TikTok is being serious about its efforts to become a central node in global music culture.
But as for when, exactly, TikTok will take its place as the new MTV – for now, that's anyone's guess.Music Business Worldwide