Spotify is generating less than USD $5 million per day from advertising. YouTube is generating $84 million per day. Meta is generating $346 million a day.
Question: How can Spotify do better at closing the ginormous commercial gulf between its business and Big Tech in terms of generated ad money?
Answer: More ad products for the music industry.
Today (September 12), Spotify officially launched a big one.
Spotify has just launched 'Showcase', a new paid-for promo tool that lets artists and their teams highlight new and catalog releases in-app on the platform's mobile Home page.
Mobile Home, according to Spotify, "is the most visited place on Spotify and billions of streams originate from it every day".
Spotify previewed the new feature at its Stream On event in March, and officially started rolling it out today (September 12).
The platform claims that "on average, people who see a Showcase are 6x more likely to stream the promoted release".
According to Spotify, over the next few weeks, artists and their teams with US-based billing will be eligible to use Showcase if they have had at least 1,000 streams in the last 28 days in one of its 30 target markets.
---
---
'Showcase' is Spotify's latest paid-for in-app recommendation tool, and follows the launch, in 2019 of Marquee, which allows labels to pay cash to Spotify in order to directly advertise priority releases to customers on the platform.
The new product represents the latest effort from Spotify to bolster its advertising revenues.
Spotify's ad revenue, although it grew 15% YoY in Q2 (at constant currency), was significantly smaller than that of other tech giants.
SPOT's ad revenue hit €404 million ($439.83m) in Q2 (see below), which works out to around $4.8 million per day.
---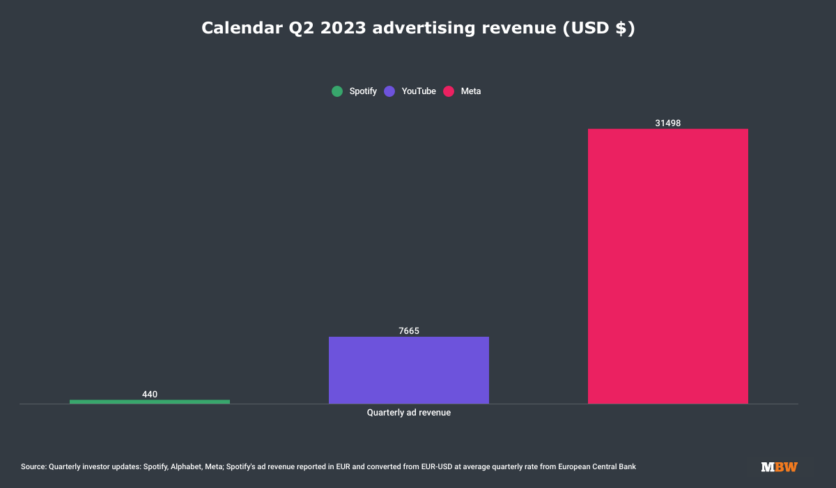 ---
Meanwhile, Alphabet reported in July, that it generated $7.665 billion in revenue from YouTube ads in Q2, a 4.4% YoY increase.
Facebook parent company Meta generated $31.498 billion from advertising in the three months to the end of June 2023.
---
Spotify says that campaign budgets for its new Showcase tool start at $100 when booked via Spotify for Artists.
The company explains further that Campaigns will run until an artist either a) spends their budget or b) 14 days after their campaign starts, whichever comes first.
Showcase is priced on a cost-per-click (CPC) basis starting at a $0.40 CPC and Spotify says that it will only spend an artist's budget when people actually click on the Showcase.
Showcase will let artists target listeners in over 30 markets and they'll be able to target specific segments of their audience based on what SPOT calls "real streaming behaviors".
Spotify highlights three segments within an artist's 'active audience' base that can be targeted, described as "valuable listeners who have intentionally streamed your music in the past 28 days from active sources like your artist profile, album and release pages, and their own library and playlists".
Those segments are:
Super listeners, described as an artist's most dedicated active listeners in the last 28 days;
Moderate listenerswhich are active listeners who intentionally streamed an artist's music "many times in the past 28 days" and have the potential to develop into super listeners, and;
Light listenerswhich are active listeners who intentionally streamed an artist's music once or a couple times in the past 28 days, and could develop into moderate listeners.
---
Whereas Marquee is aimed at promoting brand new music, Spotify is keen to highlight the potential use of Showcase for new releases as well as catalog releases (those more than 18 months old), because, it says, "more catalog tracks are charting on Spotify than ever before".
Citing its own Fan Study from September 2022, Spotify notes that "from 2020 to 2022, the portion of our Global Weekly Top Songs Chart represented by catalog (18+ months) increased by 155%".
A couple of use cases cited by Spotify for when an artist might want to promote a catalog release is around an anniversary, or "capitalizing on viral buzz".
Spotify also notes that "on average, 75% of a release's first-year streams happen after its first month on Spotify" and adds that "Showcase can be used at any moment" to promote a release that's more than a month old.
"Artists want more ways to capture listener interest and drive engagement with more of their music. Showcase gives them the ability to do just that."

Phoebe Deards, Spotify for Artists
Phoebe Deards, Product Marketing Manager for Spotify for Artists, said:  "We're constantly talking with artists and their teams to better understand how we can help them grow their fan base more effectively.
"While playlist pitching is an opportunity for artists to find new audiences and Marquee helps them make a splash for their new releases, today there are more moments than ever where promotion can drive impact.
"Artists want more ways to capture listener interest and drive engagement with more of their music. Showcase gives them the ability to do just that: now artists can amplify a new release, give their catalog an encore, turn viral buzz into long-term fandom, and more – right at the moments that matter most and on the most visited place on Spotify: Home."Music Business Worldwide