Hip-Hop trailblazer Melle Mel of the Furious Five has issued a statement regarding his recent Eminem diss. On Saturday (August 12), as New York City continued its Hip-Hop 50 celebrations across all boroughs, Melle Mel more or less apologized for his response to Eminem, which was mercilessly ridiculed online.
Advertisement

"In light of the 50th anniversary of Hip-Hop, my original intention was to contribute an engaging and enjoyable endeavor to enrich the cultural landscape," the statement reads. "Regrettably, my response fell short in its execution, and I accept full responsibility for the misjudgment. I acknowledge that my perspective was ill-conceived and I am prepared to take ownership of this oversight. It has become evident that Eminem's dedicated and passionate fan base stands unwaveringly by his side, which is a testament to their genuine admiration and loyalty—a truly commendable aspect."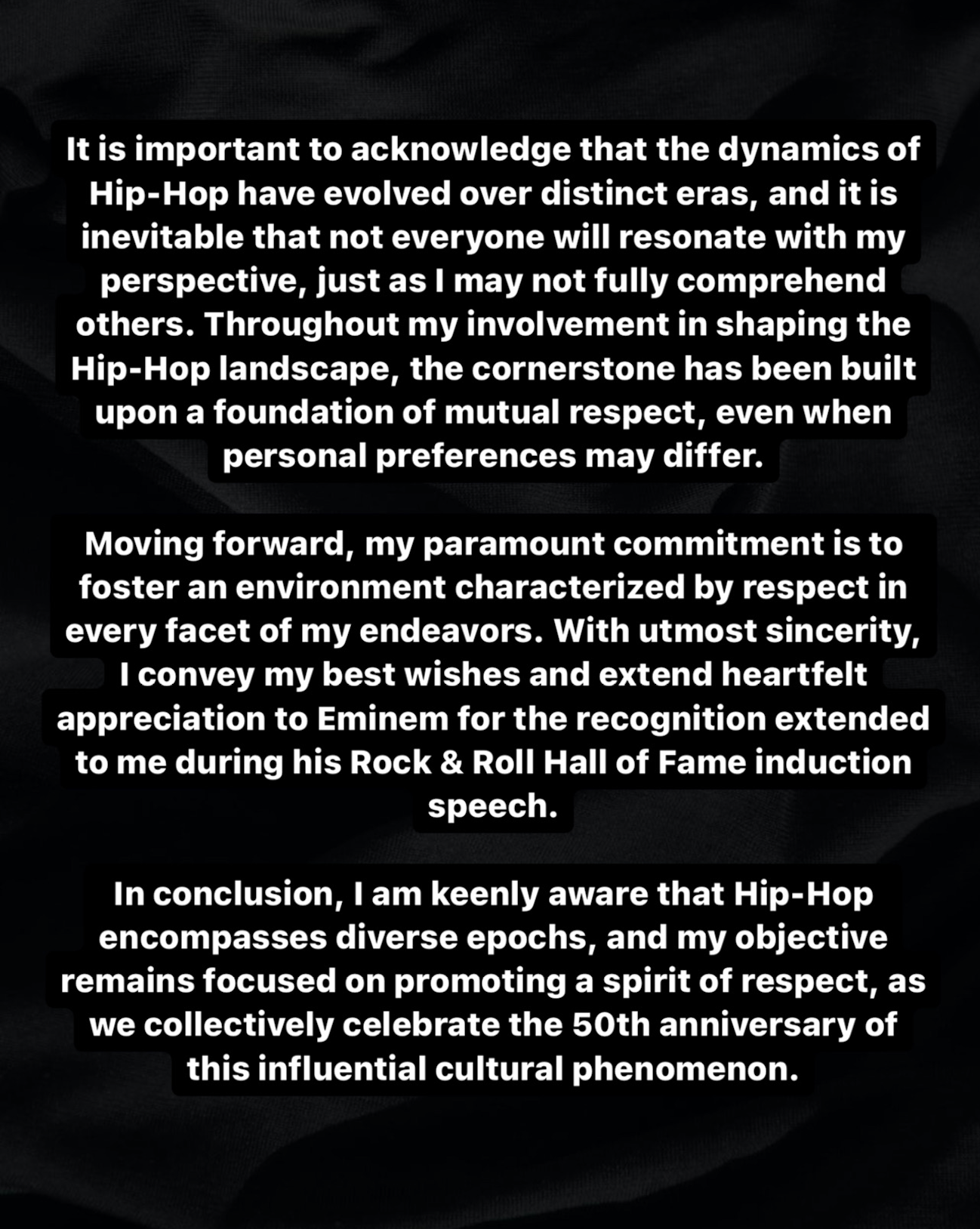 The back-and-forth began in March when Melle Mel told the Art of Dialogue that Eminem wouldn't top anyone's Top 5 list if he wasn't white, something he also addressed.
"From the onset, I have consistently recognized Eminem's exception prowess as an emcee, without reservation," he continued. "My unfortunate choice of words, suggesting that his success is solely attributed to the color of his skin was in no way reflective of my genuine beliefs. It was an attempt, albeit misguided, to engage competitively within the emcee sphere.
"It is important to acknowledge that the dynamics of Hip-Hop have evolved over distinct eras, and it is inevitable that not everyone will resonate with my perspective, just as I may not fully comprehend others. Throughout my involvement in shaping the Hip-Hop landscape, the cornerstone has been built upon a foundation of mutual respect, even when personal preferences may differ."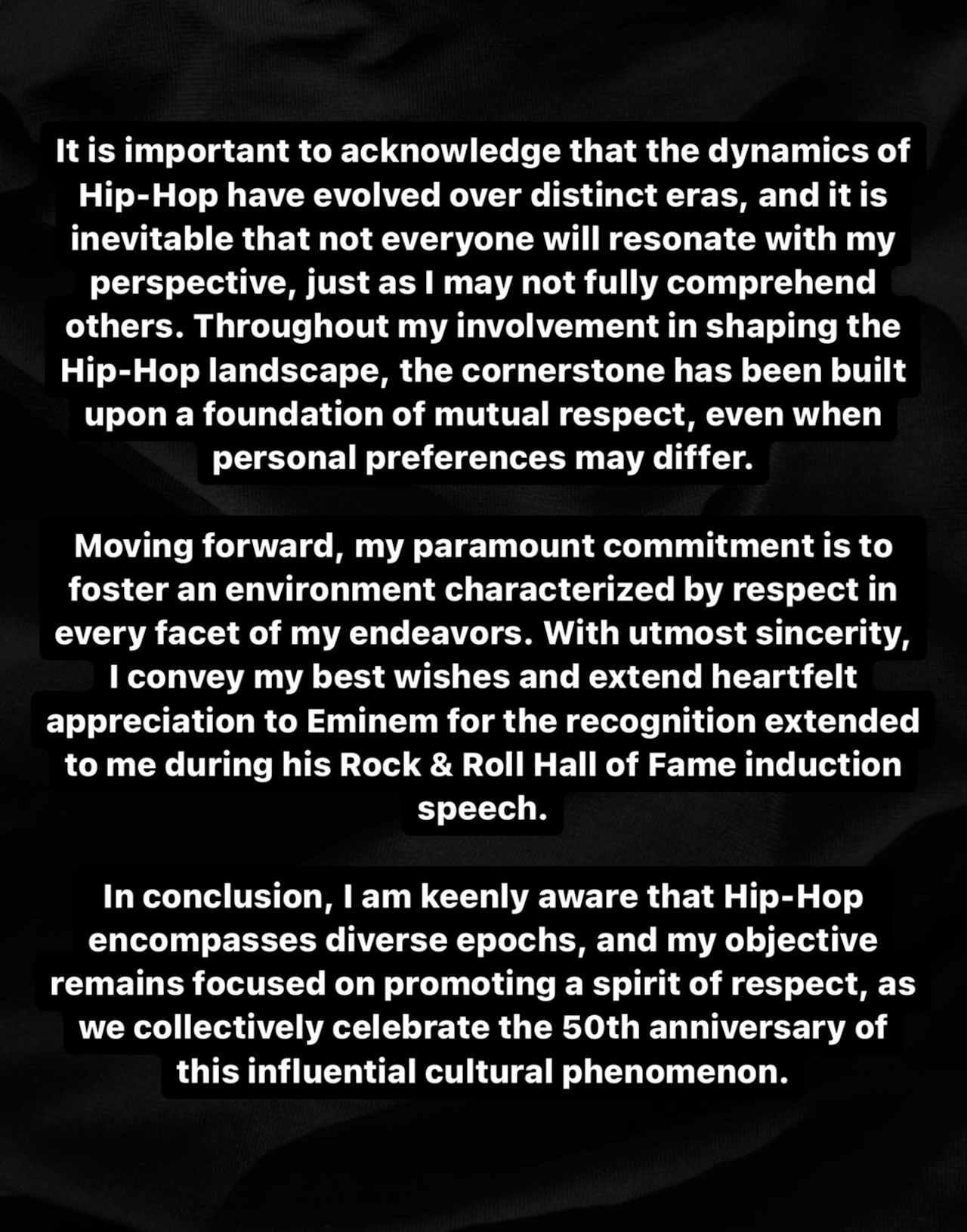 The statement arrived just hours after Melle Mel and fellow Furious Five member Scorpio performed both at a Universal Hip-Hop Museum event at Mill Pond Park in the Bronx and at Yankee Stadium on Friday (August 11), Hip-Hop's official 50th anniversary. It also followed Rahiem's apology to his Furious Five brethren Melle Mel and Scorpio, which likely influenced his decision to make peace.
"Moving forward, my paramount commitment is to foster an environment characterized by respect in every facet of my endeavors," he added. "With utmost sincerity, I convey my best wishes and extend heartfelt appreciation to Eminem for the recognition extended to me during his Rock & Roll Hall of Fame induction speech.
"In conclusion, I am keenly aware that Hip-Hop encompasses diverse epochs, and my objective remains focused on promoting a spirit of respect, as we collectively celebrate the 50th anniversary of this influential cultural phenomenon."
Eminem waited four months to respond to Melle Mel's controversial interview, but his comments arrived via EZ Mil's latest single, "Realest" in which he spits, "I'm only Top 5 'cause I'm white […] my skin color's still working against me." He continued, "Shoutout to Furious Five and Grandmaster Flash, but boy/There's someone who really is furious/ Stay out his path, his wrath avoid/ I'll be the last to toy with a juice head whose brain is half destroyed, like a meteor hit it/ Now with Melle Mel, he lost his ass to 'roids."
Melle Mel fired back but evidently feels it didn't measure up. Revisit it below.