MBW's Stat Of The Week is a series in which we highlight a data point that deserves the attention of the global music industry. Stat Of the Week is supported by Cinq Music Group, a technology-driven record label, distribution, and rights management company.
---
Jungkook is a solo superstar.
At the time of writing, according to stats available publicly on Spotify, the HYBE-signed K-Pop artist has 35,578,104 monthly listeners on the music streaming platform.
BTS, the megastar K-Pop group of which Jungkook is a member, has 34,981,739 monthly Spotify listeners, which means that he has officially overtaken his own band's monthly listener count on the platform, by 596,365 monthly listeners, according to our calculations.
---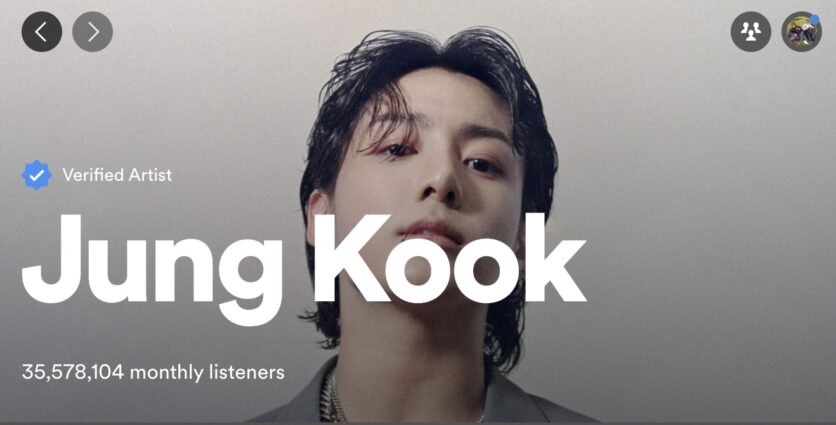 ---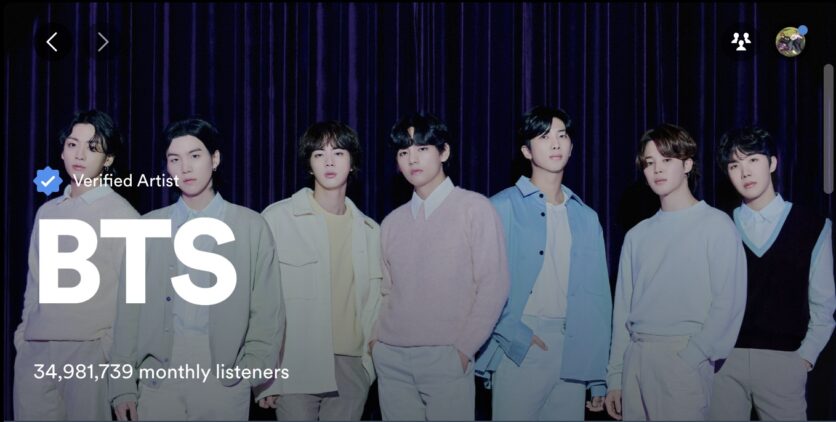 ---
Jungkook has seen phenomenal success over the past month following the release of his hit single Sevenfeaturing rapper Acton July 14.
It's worth noting that Jungkook has achieved his vast monthly listener base on Spotify without having released an album.
According to Spotify data, Seven's debut day on the service saw it attract 15.995 million chart-eligible global streams.
That was enough to make it the biggest debut 24 hours for a new collaboration track in history, and the time the biggest new release on the service so far this year.
The track debuted at No.1 on the Billboard Hot 100 chart (dated July 29, 2023), and at the time of writing, has been streamed over 413.3 million times on Spotify alone.
Seven has also held the No.1 position on the Spotify Global Top 50 chart for the past five weeks.
---
---
Jungkook's latest release arrived around nine months after HYBE Corporation confirmed that BTS was about to go on hiatus, while some of its members fulfill mandatory military service in their home country of South Korea.
As noted by MBW last month, the release was a major test for HYBE's post-BTS strategy across the globe.
That strategy, HYBE explained at the time, consisted of two parts: Firstly, it planned to develop a 'multi-label' structure to house superstars outside of its flagship group and biggest revenue generator, BTS.
Secondly, it would rely on the solo releases of BTS members such as Jimin, Jin, Suga, and Jungkook to satisfy BTS fans until the group reconvened in 2025.
This plan, presented by HYBE's global CEO, Jiwon Parkdidn't fully reassure the company's shareholders, with HYBE's share price hitting an all-time low on October 13, 2022, the same month that MOVES confirmed BTS's hiatus.
That was down close to a quarter of the Publicly-traded company's all-time share price peak of 400,500 KRW in November 2021.
---
Since then, however, HYBE has more than proved that it can generate significant sales in the absence of BTS.
Most recently, in Q2 2023, across all of its business units, HYBE clocked revenues of KRW 620.99 billion ($470 million), up 21.2% YoY.
For the first half of 2023, digital and physical album sales came in at 22.7 millionalready surpassing the 22.2 million sold in all of 2022, HYBE said in its earnings statement.
The labels' biggest-selling artists in H1 were SEVENTEEN (8.87 million albums), Stray Kids (6.07 million) and TOMORROW X TOGETHER (3.54 million).
Jung Kook's not the only solo BTS member to perform well this year.
His bandmate Jimin released his solo album FACE on March 24 and HYBE confirmed in its Q1 investor presentation that the album sold 1.45 million copies worldwide on its first day, becoming the first solo K-Pop artist to sell more than a million albums on release day.
HYBE has also seen success outside of BTS, particularly with 13-member K-Pop group Seventeen, who are signed via HYBE label Pledis Entertainment.
According to HYBE, Seventeen's '10th mini album' FML sold 3.99 million copies on its first day (April 24), which HYBE said is a "new world record" for a K-Pop album. HYBE confirmed to MBW that those 3.99 million copies sold only include physical sales.
South Korea-based chart company Hanteo, whose real-time physical album chart tracks album sales from over 1,100 record stores worldwide, reported that FML sold over 4.5 million physical copies worldwide in its first week.
Hanteo also reported that FML racked up 4.64 million preorders, making it the most-preordered K-Pop album of all time, at the time. (JYP-Entertainment-signed K-Pop band Stray Kids breaking the record in June). Back in 2020, HYBE-signed superstars BTS's Map of the Soul: 7 received 4.02 million pre-orders.
---
Meanwhile, earlier this month, we learned that HYBE is taking full control of BeLift Lab, the label that's home to K-pop stars Enhypen.
BeLift started out as a joint venture between HYBE and CJ ENM, owner of South Korean pay-TV music channel Mnet.
According to HYBE, the deal "marks a significant step forward in HYBE's strategic multi-label structure, expanding its content and artist portfolio even further".
In a press release shared with MBW, HYBE says that it is acquiring a 51.5% stake in the label from CJ ENM, meaning that it will now own 100% of BeLift.
According to local reports, HYBE is buying CJ ENM's 51.5% stake in BeLift for 150 billion South Korea Won (approx. USD $113.8m)
---

Cinq Music Group's repertoire has won Grammy awards, dozens of Gold and Platinum RIAA certifications, and numerous No.1 chart positions on a variety of Billboard charts. Its repertoire includes heavyweights such as Bad Bunny, Janet Jackson, Daddy Yankee, T.I., Sean Kingston, Anuel, and hundreds more.Music Business Worldwide