To no one's surprise, 2023 is going by in a blink of an eye, and there is nothing we can do but sit back and try and enjoy it while we can. This is why, with only four months to go until the end of the year, FNGRS CRRSD has announced the lineup for PROPER NEW/NEW event to try and give us all something special to look forward to.
This announcement comes on the heels of a successful debut sell-out last year, and a sold-out fall edition of CRSSD festival this September. Returning to PetCo Park in San Diego, CA, PROPER has swiftly become a destination festival in Southern California.
While the final lineup will host over 50 unique and talented artists, phase one definitely sets things off on the right foot. Leading the charge is Black Book Records' maestro, Chris Lakeand deadmau5's transformative alter-ego, TESTPILOT. But that's just the beginning – brace yourself for an incredible lineup featuring Grammy-nominated electronic sorcerer ZHUthe immersive realm of Higher Ground, Mad Decent's genre-bending powerhouse DiploUK's triple-platinum sensation CamelPhatand Germany's enigmatic sonic enchanter Claptone.
The sonic journey continues with sensational acts like North London's chart-topping wizards Gorgon CityAussie favorite Sonny Liningbeat-making icon Chris Lorenzohit-maker Duke Dumontand the cherished UK duo Eli & Fur.
For dedicated house music aficionados, the PROPER lineup is a treasure trove of musical delights. Groove with Walker & Roycejourney to Sydney's dance paradise with platinum sensation Hayden Jamesimmerse in Layla Benitez's global allure, and explore Cloonee's sonic odyssey.
But the execution of pure talent doesn't end there! Feel the four-to-the-floor rhythms of Latin House star HUGELembrace tech house prowess with Biscits and Kyle Watsonsavor Franky Wah's melodic artistry, and rise with Chicago's underground star Get it right.
PROPER's techno lineup boasts a constellation of stars, including the Berlin production duo Pan-PotGerman standout Chris Vanguard from Afterlife, the rising rave sensation Rebukeand the emerging maestro of melodic techno, Massano.
PROPER unfolds on the expansive grounds of Petco Park, with dynamic stage setups peppered across the sprawling locale. As a true emblem of Southern California, Petco Park treats electronic music aficionados to panoramic vistas of downtown San Diego, nestled at the core of the city's pulse. This iconic venue sets the perfect stage for a New Year's Eve celebration resonating with the beats of both current and forthcoming luminaries of the genre.
Alumni presale will begin on Thursday, 8/17 at 12PM PST and is available to all purchasers from CRSSD Spring or CRSSD Fall 2023, PROPER NYE 2022/23, and the FNGRS CRSSD Petco Park 2022/23 shows. SMS Community presale will begin on Friday, 8/18 at 12PM PST and general public on-sale for GA and VIP tickets will begin on Friday, 8/18 at 2PM PST.
Fans can text "PROPERNYE" to (855) 912-1457 to receive SMS Community presale access. PROPER NYE/NYD is a 21+ festival.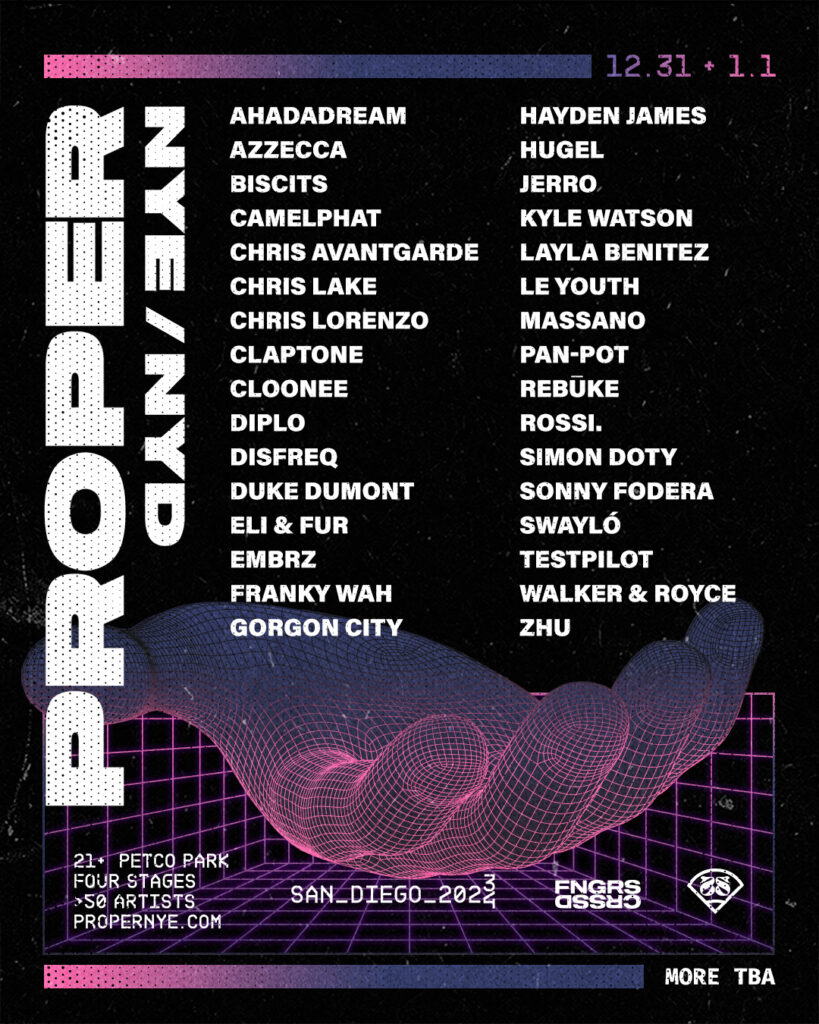 Photo: Daniela Becerra / @killedwithkindness