BMG saw its global revenues grow by double digits – 11.5% – year-on-year in the first half of 2023.
According to a new interim report from BMG parent, Bertelsmann, the Berlin-headquartered music company generated EUR €414 million (USD $447m) in the six months to end of June this year, up on the EUR €371 million it generated in the equivalent prior-year period.
BMG's profit also grew significantly. In H1 2023, BMG's operating EBITDA hit €90 million ($97m)up 22.6% YoY.
BMG generated more than half (€217m) of its H1 2023 revenues in the United States.
A further €49 million was generated in Germany, with €42 million generated in the UK, €29 million generated in France, and €42 million generated in 'other European countries' (i.e. outside the UK, Germany, and France).
Some €33 million was generated in the rest of the world (outside the markets specifically mentioned here).
The first half of 2023 was a significant period in BMG's management, with long-time CEO, Hartwig Masuch, stepping down from the role at the end of June.
Since July 1, Thomas Coesfeld, formerly BMG's CFO, has been Chief Executive of the company.
---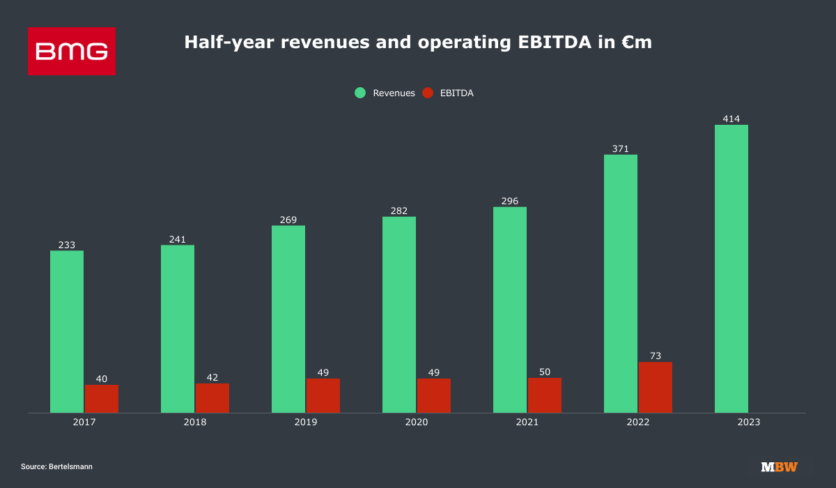 ---
Bertelsmann confirmed to investors today that BMG made 15 acquisitions during the first half of 2023, including the song catalog of British rock and pop band The Hollies, as well as a significant share of Paul Simon's music interests, including the rights to royalties from Simon & Garfunkel's recordings.
In its interim half-year report, published today (August 30), Bertelsmann wrote: "In its ongoing business [BMG] secured the right to release George Harrison's solo recordings, thus uniting the ex-Beatle's recorded catalog and publishing rights under a shared umbrella.
"In the recording business, [BMG's] most popular new releases came from Jelly Roll, Kylie Minogue, Rita Ora, Godsmack and McFly; among the most listened-to catalog titles were tracks from Mötley Crüe, Cro, Black Sabbath and George Harrison."
Bertelsmann added that BMG's strong earnings growth resulted "in particular" from revenue growth in its publishing business.
Frontline successes in that publishing business in the first six months of 2023 included "I'm Good (Blue)" co-written and co-performed by BMG writer Bebe Rexha, "Boy's a Liar Pt. 2" (co-written by Mura Masa and performed by PinkPantheress and Ice Spice) and "Wish You The Best" by Lewis Capaldi.
BMG's best-performing catalogs included works by Blondie, Daryl Hall and John Oates, George Harrison, Jean-Michel Jarre, Juice WRLD, Mick Jagger and Keith Richards, and ZZ Top, said Bertelsmann.
Bertelsmann said today that Thomas Coesfeld's focus for BMG going forward will "include a more intensive collaboration with customers and partners, delivering greater efficiency and effectiveness and renewing the company's corporate culture".
---
Currency exchanges in this report have been made at the average rate for the period (H1 2023), according to European Central Bank data.Music Business Worldwide